For those who missed our book pickup, we are offering additional dates/times for books to be picked up at the Religious Education Office between the hours of 10:00 AM-3:45 PM by appointment.  Appointment times are available through the link below.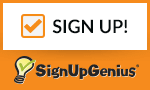 * Special needs students do not require a textbook—all materials will be online
** Students in Confirmation III and High School II will be using the same textbook from last year.  If you require a new textbook there is a $20.00 replacement fee.
***Students in Eucharist II and Confirmation II will receive their books in November at the start of class.